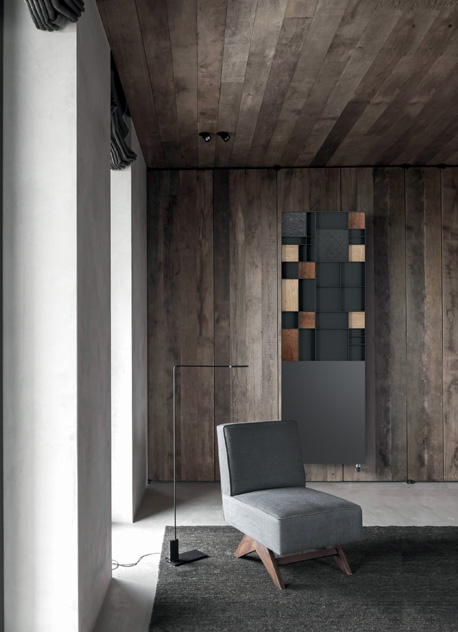 YOUR IMAGINATION IS THE LIMIT.
A radiator with an infinite variety of ways to be customized to express your creativity. It fits every environment and style; versatile over time.
In mineral white and anthracite, Patchwork has a frame that supports up to 31 patches. Every patch will be provided with a neodymium magnet on the back to guarantee an optimal grip.
You can create your own combination choosing among 100% natural materials, result of a long and accurate selection: hand-painted ceramics realized in Montelupo Fiorentino according to Della Robbia family's tradition: ancient pieces of wood in two different shades and 5 different kinds of fine marble and stones.
Moreover, in addition to the official patches, you can add your own pictures and personalized graphics...to make it even more unique! it's possible to insert inside the grid not only the official patches, but also your own pictures and personalized graphics...make it even more unique!
Create your own patchwork
Free your imagination and create your own combination dragging and dropping the available materials into the frame.
Are you curious to see how your customized Patchwork would look like in the space you've decided to install it?
Upload a picture of the wall where you imagined it and you will get a preview of the final result.
Have fun!
To use the configurator you have to have a bigger device. Try to rotate or change device.